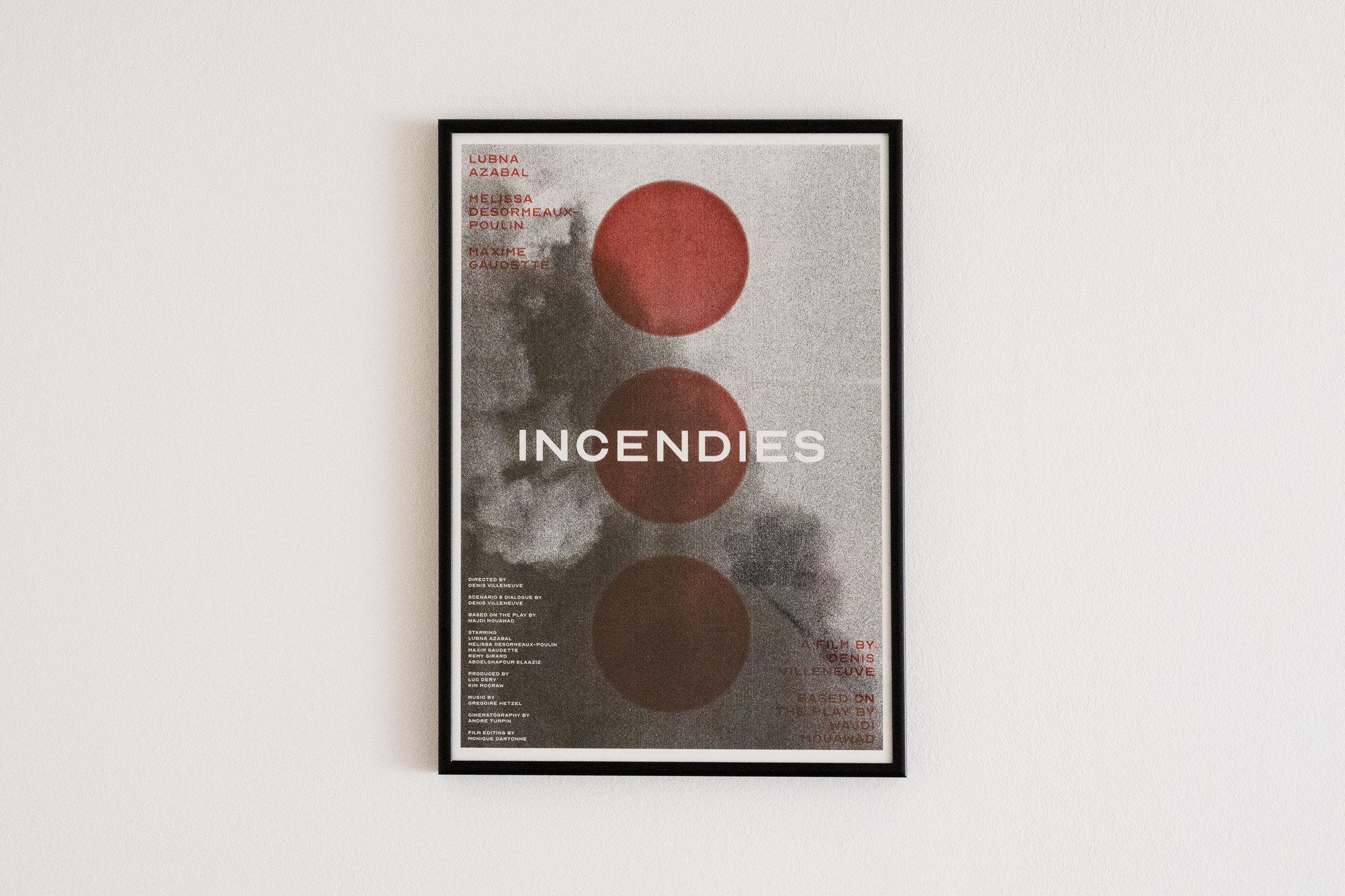 001 Incendies

Printing: Risograph
Colours: Bright Red (Pantone 185U) and Black
Paper: Fedrigoni Freelife Vellum Ivory 120g (40% recycled)
Format: A3 (297×420mm)

Limited edition of 30



Our first print is based on the film poster we made for
Incendies
(Denis Villeneuve, 2010) as part of our passion project Double Bill Posters. This design was one of two in our double bill for Canadian director Denis Villeneuve (see
Double Bill Posters 2021
).
The three dots are a key element in the narrative of the film and signify the search for identity and heritage. We used a grainy background with clouds of smoke to refer to the gritty, war-riddled atmosphere in an undefined Middle Eastern country.
The choice to have this print made with a Riso printer (by
Studio Boekenberg
) was easy. This technique uses eco-friendly ink made from agricultural waste (
rice bran oil
, extracted from the hard outer layer of the rice grain). Riso printing is like automated screen printing – each one of our prints is unique!
Designed and produced in Belgium with love for our environment.
This print is shipped unframed and flat in a robust cardboard envelope.
You can also buy this print in a frame. We chose a black frame to go with the dark mood of the print, but we also offer two other options: a white aluminium frame (see
here
), or an aluminium frame topped with oak veneer (see
here
). The oak veneer frame has a slighty deeper edge for a more dynamic look. Framed prints are only available as local pick-up (2018 Antwerp or 2600 Berchem) or bike delivery within 10km distance of the centre of Antwerp.
Our frames are made to order so please note that delivery times are subject to availability.